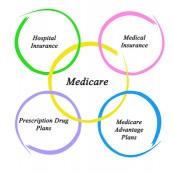 When you hear the term Medicare most Americans think of seniors, older folks or anyone over 65 but did you know that a large percentage of people on the government Medicare rolls are made up of those Americans that are under the age of 65? These younger folks are on the government insurance rolls due to an illness or accident and have been declared disabled by social security.
Well if you are one of these underage recipients of the Medicare what are you to do for extra coverage? You could go without any form of additional coverage although that's probably not very wise, you could select a traditional Medigap supplement plan but Texas law only requires Plan A to be offered and lastly you could select a Medicare Advantage plan.
Medigap Supplements
Since we have discussed doing nothing was not such a wise decision lets discuss the two options that provide some additional coverage and benefits. First the Medigap policy, also referred to as a Medicare Supplement Plan are offered in 10 different "flavors" or plan types labeled Plan A thru N. Well, Texas law only requires Plan A to be offered to those on early age Medicare disability and this plan is what we consider the bottom of the supplement food chain, this plan does not provide benefits for either Part A or B deductibles and the monthly premium runs around $250 a month or more and will be subject to steady rate increases. Selecting this option will also mean you will need to secure a Part D prescription drug plan with more additional cost.
On the positive side it does give you the freedom to go to any doctor of hospital that takes Medicare but that freedom will cost you an arm and a leg. Most people on disability and early age social security just don't have that kind of cash lying around to pay this heavy insurance nut. But hope is out there in another option.
Medicare Advantage Plans
Medicare Advantage plans are also an option for these early age disability beneficiaries. With most plans offering low to zero plan premiums in addition to your Part B medical insurance premium. This number is obviously more affordable than the typical supplemental plan and some of these advantage plans also provide Part D prescription drug coverage, kind of an all in one plan with little or no monthly plan premium.
The advantage plans have copays for most medical treatment instead of deductible and you may find you pick up other added benefits like vision, dental and hearing benefits. Some MAPD plans offer free membership in your local gyms and fitness centers thru the SilverSneaker program. All in all you get both Medicare A and B coverage and other value added benefits. All advantage plans have a set maximum out of pocket the member would incur so there will be limits on how much you will spend on copays and such yearly.
Now the drawbacks on these plans, some imaginary due to politics and some legitimate are simple in our mind, its called networks. Medicare advantage HMO plans do require you to receive regular treatment from inside the provider network and most require the selection of a primary doctor that gives referrals to specialist. Emergency care is a different story regarding where you can seek treatment but normal routine care must be delivered from network providers. You can also entertain going the PPO route which have far less restrictions related to who you can and can't see for medical treatment but you may find your out of pocket maximums increase over their HMO counterparts.
Overall we feel the Medicare Advantage route may be your best option if you are what we call early age Medicare due to a disability. For more information on these plans just call and ask for additional information on Medicare Advantage plans today.